First and foremost, it is almost always easier – and better for the dog – to keep the dog in  his or her current home than find a new one. If you or someone you know is struggling to keep their dog because of behavior issues, housing issues, vet bills, or another problem, please check out the resources on this page and contact us if you have questions.
If it truly is not possible to keep your dog, or if you are a Good Samaritan trying to rehome a dog you've found, then we can offer some advice that will help you rehome the dog as quickly, positively, and safely as possible. Having a guardian angel like you makes a life and death difference for a dog in need of a second chance. Thanks for stepping up!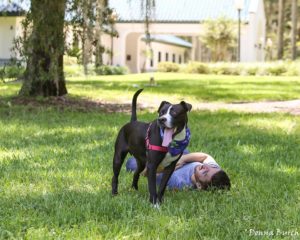 One great resources is a new Adopt-a-Pet website to help people rehome dogs. You can find out more information and sign up at https://rehome.adoptapet.com/
Here are some other tips:
First, make sure the dog is spayed or neutered, up to date on vaccinations, and tested for heartworm. Operation No More Homeless Pets at the Alachua County Humane Society can do all this for about $150. Please contact them at http://www.alachuahumane.org/ or 352-376-6647.  We also highly recommend getting the dog microchipped and registering the chip to yourself.  That way, you'll be contacted if the dog gets lost and ends up at the vet or shelter — or if the dog is abandoned by the adopter. If the dog tests positive for heartworm, NMHP can give you some suggestions for treatment. We can also offer some advice if you email us at gainesvillepitbulls@gmail.com.
Second, get good photos, with a high quality phone or DSLR camera. Use these as the basis of your marketing.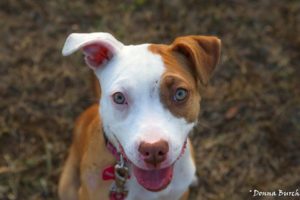 Third, social media – create a Facebook page, set up an Instagram account – and keep it updated frequently. Give people as much information as possible about the dog's likes, personality, etc.  Be honest but upbeat in all your marketing.  Don't dwell on the dog's terrible past, but let people know how much the dog will add to their families if they adopt.
Fourth,  exposure! Purchase an "adopt me" vest (easily available on Amazon, Etsy, and other sites) and take the dog for frequent walks and outings with the vest on. You can even make business cards for the dog to hand out to anyone you meet.  Recruit your friends, coworkers, and neighbors to help spread the word.
Fifth, training! Teach the dog good manners – like not jumping on people to greet – make sure he or she is house trained and crate trained, and also teach basic commands like "sit" and "come" – and if you can swing it, teach him or her a few cool tricks like "shake" or "roll" as well.
Sixth, dog socialization.  It's a huge advantage if the adoptable dog is friendly and polite with other dogs.  Many potential adopters have another dog or might want one in the future.  The best way to socialize a dog with other dogs is through supervised, safe, positive interactions with other dogs.  NO DOG PARKS!  They are an invitation to bad experiences.  Instead, find friends with dogs and take walks together, have supervised play dates in a fenced in area.  Check out the advice about safe introductions elsewhere on this site.
Seventh, more free advertising:  Make flyers and post them at vets, pet supply stores, community centers and anywhere a potential adopter might see them.  Use Craigslist and local newspapers.  However, please do not give away your dog to people you do not know or advertise "free dog" on Craigslist or elsewhere. Too many animals end up victims of cruelty and neglect when people give them away. Instead, we urge you to read carefully to make sure you find your dog a secure and safe new home.
Eighth:  safety first! Check references and charge a rehoming fee, and make sure the adopters know that you want to be informed if they can't keep the dog.
For still more advice and information about rehoming, check out http://www.badrap.org/re-homing-dog