If you want to surrender a dog that is currently part of your family:
1. Please think about the real reason for why you want to give up your family member. There are solutions to almost every problem.
2. If you can't find a place to live, your best bet is to rent from a private owner as opposed to a management company as they often have breed restrictions. You can also get renters and homeowners insurance that covers your bully breed.
3. If your dog is showing undesirable behaviors, please consult a trainer or behaviorist before giving up your dog. Most issues can be overcome with a little effort on your part.  If you email us at gainesvillepitbulls@gmail.com we can suggest some trainers and behaviorists in our area.
4. If your dog keeps escaping the yard, keep them inside! Dogs want to be with their families, and those who are kept outside get bored and lonely.  Also, if your dog is not yet spayed or neutered, get that done ASAP. Getting a dog spayed or neutered will greatly decrease their desire to escape the yard and look for a mate.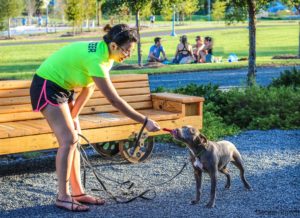 5. If your "work schedule is too busy," "you don't have enough time," or "you can't give the dog what they need," consider hiring a dog walker to come over during the day to let your dog out and get them exercise. This may not be an expense you can afford so consider asking friends or family members to help with the walking. There is also the possibility of doggie day care.
6. If your dog has separation anxiety and is "tearing up the house", consider crating your dog while you are gone. Crating is an act of love and something that can help your pet. You can also leave the TV or radio on. Get them chew toys they can't easily destroy such as Nylabones or Kongs. Some dogs do better with a playmate – foster homes are always needed!
7. Remember, you made a commitment to your dog when you brought them home. Why are you giving up on them? Dogs only know as much as we teach them, so it is our job to make sure we have happy, well balanced, well behaved dogs. You may think that your dog will find a great home at the shelter but chances are, they won't.
8.  If you cannot afford the medical care your dog needs, there are resources in our community that can help.  Email us to find out more about these resources.
Thanks to the Bickell Foundation for these suggestions.