We love dogs and we appreciate our adopters, and nothing makes us happier than bringing together great people and great dogs. However, recently we have experienced a number of returns, in some cases years after adoption. As we have grown over the past several years, we have adopted out nearly 300 dogs. If even a small percentage of these dogs are returned, it creates burdens that our small, all-volunteer rescue simply cannot bear. Recent returns are straining our resources and causing a great deal of frustration, since we have not been able to pull many dogs from shelter euthanasia lists. As a result, we have had to rethink our return policy.
Simply put, we can no longer promise to take back dogs when adopters decide not to keep them any more. This makes us sad, since we feel that it means condemning dogs to an uncertain fate. The reality, however; is that millions of dogs face an uncertain fate every year, and we simply cannot save them all.

Our adoption contract states, "If at any time I feel unable to keep my dog, I will notify POPB. I understand that the rescue has limited resources and may not be able to take the dog back but will provide as much support as possible. I will do my best to seek help for behavior and veterinary issues, and if I determine that I absolutely cannot keep my dog, I will rehome him/her safely and responsibly."
Here's what that means. If an adopter is having trouble keeping a dog, we will do our best to help, but our resources are limited. We are all volunteers and all our dogs live in private foster homes. Unlike a public shelter, and many larger rescues, we have no paid staff and no kennel facility.
Although we cannot promise to rehome your dog or find a foster home for him or her, we want you to contact us if you are having trouble. We will try to help, to the best of our ability. If the dog has behavior issues, we will find trainers and/or behaviorists who can help. If the dog needs expensive veterinary treatment, we will look for resources. If an adopter needs to move, we will help look for dog-friendly housing.
We recognize that sometimes it is not possible for an adopter to keep the dog. In such cases, we will try to help with advice, support, and resources so the adopter can safely rehome the dog. We ask adopters to advertise the dog in their own networks, social media, and other outlets. We're all volunteers, and we don't have any more time than any of our adopters. Adopters know the dog best and are his or her best advocate and best hope for finding another good home.
In rare cases, we will be able to accept the dog back into our adoption program. For that to happen, we need a foster home, resources to care for him/her, and an evaluation that confirms that the dog has a sound temperament and is adoptable. We will also need evidence that the dog is up to date on vaccinations and is on monthly heartworm preventative. We will ask you to foster your dog (or find a new foster home) and also to cover the dog's food and veterinary costs.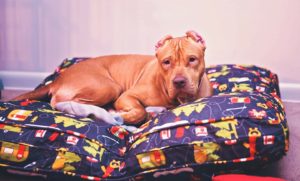 The bottom line is that when you adopt a dog – from us, another rescue, from a public shelter, or from a breeder – you accept responsibility for the dog's welfare for the rest of his or her life, which can be 15 years or more. Regardless of your circumstances – whether you move, switch jobs, get married, get divorced, have children, or experience other major life changes – your dog still needs you. Please consider this carefully before you commit to adopting. It is not fair to ask us – all volunteers with our own dogs, jobs, kids, and complicated lives – to take on your responsibilities. And it is not fair to abandon a dog who loves you to an uncertain fate.